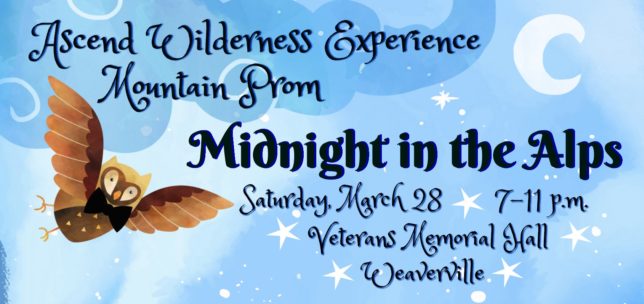 Ascend Wilderness Experience is throwing the second annual Mountain Prom on the evening of Saturday, March 28 at the Veterans Memorial Hall in Weaverville to raise funds for 2020 summer backpack trips and day hikes for local youth. Mountain Prom is an all-ages community shindig that will feature a wide variety of entertainment for the whole family including live music, photo booth, mountain prom attire and décor, prizes, kids' corner, delectable hors d'oeuvres and more.
A new highlight of this year's Mountain Prom will be a lip sync contest with competitors from the local community. The winner of the contest will receive a certificate for an 8 hour patio boat rental generously donated by Trinity Lake Resorts and Marina. The boat fits up to 12 people and the certificate is redeemable any day between May 1st and September 30th, excluding holidays, and subject to availability.
This fun-loving contest of showmanship, with a fabulous grand prize, is open to individuals and groups. Anyone interested in potentially participating in the lip sync contest at Mountain Prom on March 28 should email [email protected] with the names of performers that would be involved, the song that would be performed and a brief description of the general concept for the performance.
Crowd pleasing tactics such as costumes, props, and choreography are highly recommended. Songs and performances must also be family friendly.
Contest space is limited so prospective performers are encouraged to email in their submissions as soon as possible. Submissions are subject to review and are not automatically guaranteed a spot in the competition. The final deadline for submissions is high noon on Wednesday, February 19. For more information please contact [email protected] or call (530) 739 1177.