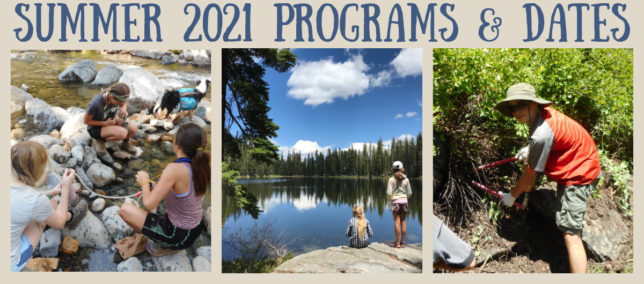 Get outside with Ascend this summer! Ascend is offering a variety of day and overnight trips for all ages. Ascend provides everything necessary for your trip, including food, gear and guides. All programs are offered at no cost to participants but donations help ensure the future of Ascend programs. Click on the blue links below for more information about each trip and how to sign up.
Teen 7-Day Wilderness Stewardship Experience– A skills and resume building adventure that combines backpacking with volunteer stewardship up Poison Canyon near Lilypad Lake in the Trinity Alps – Open to youth 14-18, Wednesday, July 7th – Tuesday, July 13th
Youth Day Hikes on the Weaver Basin Trail– A combination of hiking and fun stops, art projects, and activities along East Weaver Creek in Weaverville- Open to participants 6-11 years old, July 6th, 8th, and 14th, 10 am – 2 pm
Youth Day Hikes in the Trinity Alps– Day trips into the Trinity Alps – Open to participants 8-18 years old, July 16th, 19th, 21st and 23rd
5-day Adult Stewardship Trip – A stewardship backpack trip focused on trail maintenance up Poison Canyon in the Trinity Alps – Open to adults, Sunday, June 13th – Thursday, June 17th
Multigenerational Stewardship Weekend – An accessible campout that will involve an evening of Leave No Trace training activities followed by a day of hiking and stewardship along the Stoddard Lake Trail in Trinity Alps, with overnight stays at a base camp just outside the wilderness – Open to adults and families, Friday, June 18th – Sunday, June 20th
Multigenerational Stewardship Day Trips – Full day outings to Big Boulder Lake in the Trinity Alps that will involve stewardship activities and day hiking – Open to adults and families, June 24th and 26th

Ascend is committed to safety, in 2021 that means following COVID-19 protocols.