Ascend Wilderness Guides are Wilderness First Aid, CPR, and water safety certified as well as Ascend trained to make sure safety is priority on outdoor adventures. They thrive in the backcountry where adapting to changing conditions and group dynamics is critical to providing a meaningful wilderness experience. Our Guides are devoted to Ascend's mission of providing opportunities for enhanced awareness of and connection to self, others, community and environment through wilderness adventures, environmental education and stewardship.
Learn more about our Wilderness Guides!
Danyel Aglipay
Danyel Aglipay went on stewardship backpacking trips in the Trinity Alps Wilderness in 1996, 1997 and 1998 as a youth participant in a program that was a precursor to Ascend. Those opportunities in her teenage years to assist in building water bars and clearing trail sparked a sense of responsibility and care for the Trinity Alps Wilderness that she still carries today. She is also now married to a fellow backpacker that she met when she was sixteen on her very first Trinity Alps stewardship backpacking trip in 1996. Danyel has led dozens of hiking and backpacking trips for youth into the Trinity Alps and was part of the Ascend Administrative team from 2016-2021. Danyel works much of the year as a musician and music teacher but looks forward to backpacking season all year long.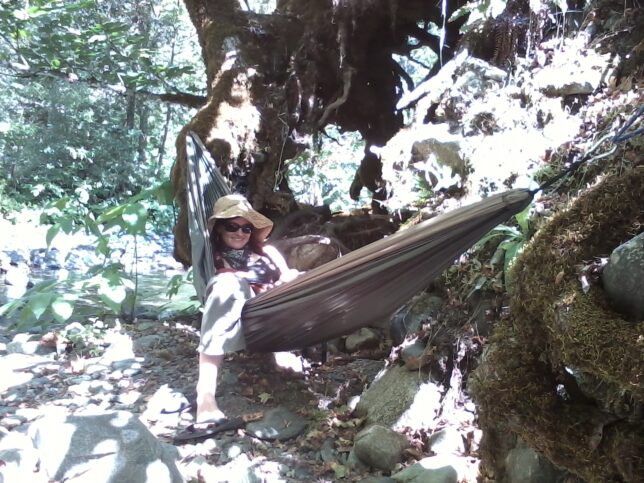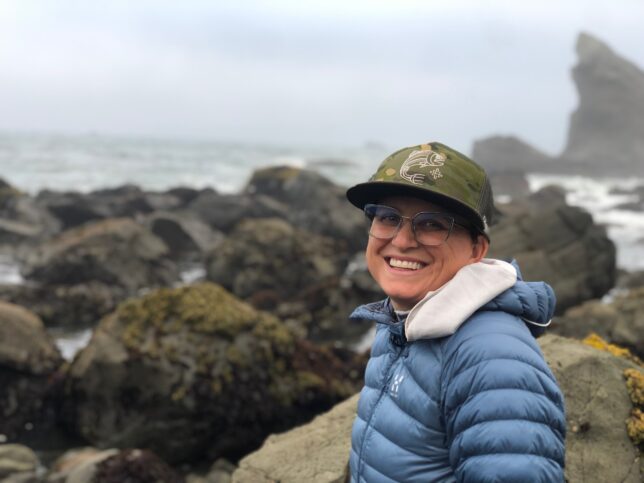 Dana Hauser
Dana grew up in the Bay Area in the rolling hills next to the East Bay Regional Parks protected watershed. Growing up she spent all of her extra time riding horses and hiking in those hills with hundreds of miles of open trail, playing in the creeks, and exploring the outdoors.  She shared this passion with her sisters and father, who instilled the importance of outdoor ethics and respecting the environment and the animals that lived there.
After high school, Dana attended Humboldt State University and ended up settling in the heart of Trinity in Hayfork. With the combination of her passion for nature and sharing the outdoors with future generations, she is a natural fit for the Ascend program. 
Andrew Nelson
Born and raised in Humboldt County and being fortunate to soak up lots of quality time playing under Redwoods as a youngun, Andrew has had a love for trees as long as he can remember. This love matured in adulthood, finding tree work while living in Colorado and eventually settling into a life filled with time spent outdoors. Andrew has lived in Trinity County for the past three years and is very passionate about the mountains, waterways, flora and fauna of the Coastal and Klamath mountain ranges.
When he's not leading trips for Ascend, you can find him caretaking a ranch and managing the vineyard on site, and doing tree work. Some other hobbies include reading, listening to and discovering new music, and playing Magic the Gathering. He is also a proud partner to his fiancé, Carly, and parent to their 17 year old cat Buddy. Andrew relishes the opportunity to take kids backpacking to hopefully inspire future outdoor enthusiasts.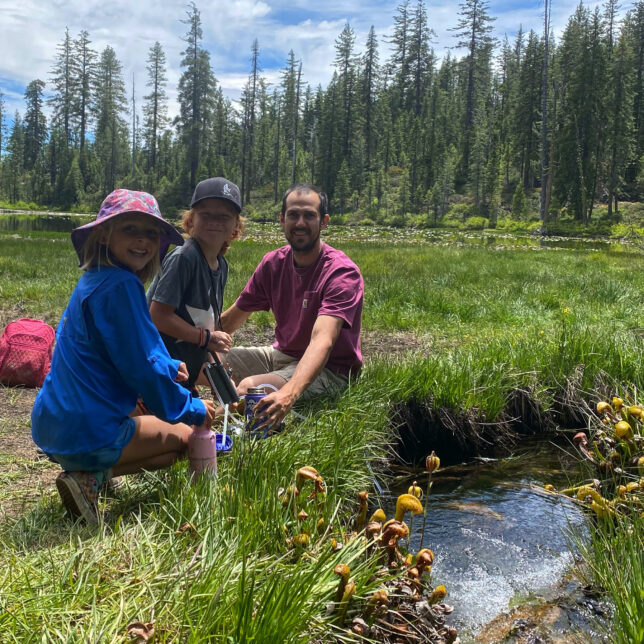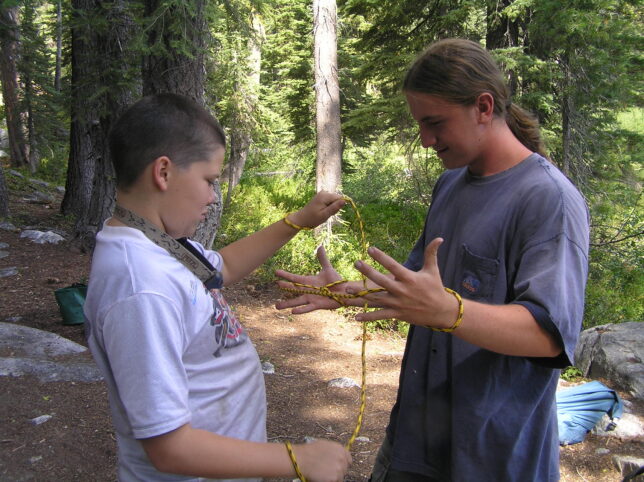 Dave Johnson
A Trinity County local, Dave first encountered Ascend on a hike with his dad, running into Ascend Founder Scott LaFein on the trail. He would later sign up and attend his first pack meeting at 10 years-old, totally soaked after jumping into a creek beforehand. He would go on to participate in an Ascend trip every year until he graduated high school, becoming Ascend's first Junior Guide and later returning as an adult to lead trips, playing games and creating space for the meaningful conversations and revelations that emerge around a campfire.
When he's not playing games in the backcountry with youth and adults, Dave coordinates and supports crews for the Trinity County Resource Conservation District, works on his family's land, and can be found exploring the vast dirt logging roads around Trinity County on his dirt bike. When asked what his favorite thing about Ascend is, Dave says it's seeing how the kids shape their own experiences when given the freedom of undirected time outdoors.
Elizabeth Riggal
Elizabeth lives in Mount Shasta, where she works as a Health Educator for the Siskiyou County Public Health Department. She previously worked throughout Trinity County as a Nutrition Educator for CalFresh Healthy Living, UCCE, which is how she got connected to Ascend. She is currently pursuing a Master's in Public Health in Community Health Education.
In her free time she loves to run, swim, and cook. She looks for any excuse to make a trip over Scott Mountain to meet up with friends and get back into the Trinity Alps!