To help fund Trinity Alps Wilderness excursions for local youth in the 2017 backpack season, Ascend Wilderness Experience is throwing a Benefit Dinner and Polka Party!
The fun-filled event will feature a fresh local produce dinner, silent auction, and live music by Trinity County's own Hobo Gulch Polka.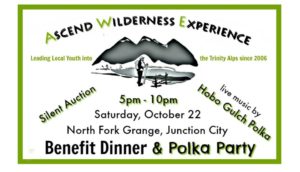 Ascend will also offer a slide show, testimonials from past participants, and fun activities to share the meaningful work that the organization does.
Silent auction items include, guided fishing trips, rafting trips, outdoor gear and much more.
Dinner includes multiple mouth watering courses:
Organic Green Salad
Tender Baked Chicken with Herbed Gravy
Ginger Glazed Tempeh Steaks
Persian Rice with Egyptian Saffron
Farm-to-Table Roasted Roots
Canyon Creek Apple Crisp with Cream
Local Beer, Wine and Cider
Lavendar Hibiscus Cooler
Chai Tea
Doors at 5pm, dinner at 6pm, and polka at 8pm. Tickets are $20 for adults, $15 for kids under 12, $35 for couples, and $60 for a family of 4. Tickets are available at Mamma Llama, Junction City Store, Norel-Pom and at the door.
For more information or to volunteer to help please contact:
Danyel Aglipay: danyel.ascend@gmail.com or 503 720 6092
Amanda Barragar: amanda.ascend@gmail.com 541 292 2833